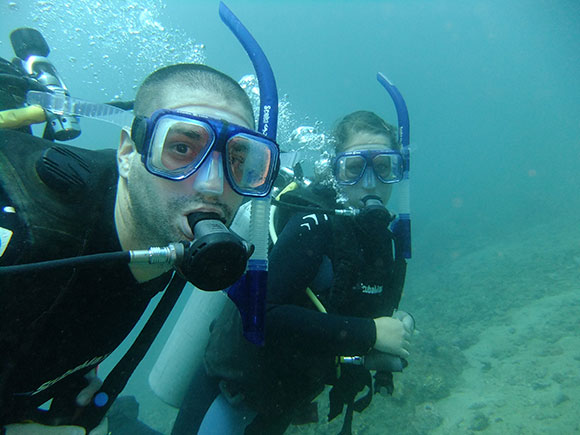 Most of the wonderful beauty of Ecuador can be found under the sea. We offer different PADI courses that you can combine with Spanish classes. The most common certifications are: Open water; Advanced Open Water, Rescue course and  Dive Master.

Explore the sea like nowhere else. The Pacific Ocean is home to several aquatic wildlife treasures, where you can see a great amount of fish (Sergeant Major, Scrawled fly fish, puffer fish, flute mouth, hog fish, butterfly fish, cornet fish, morays, moray eels, angelfish, barber fish, box fish, surgeon fish, trigger fish and parrot fish), different types of rays and if you are lucky enough you may spot seahorses, turtles and small sharks.

You can combine private Spanish lessons all week long with diving lessons. Course times depend on the certification, some courses are during the weekday mornings while others are in the weekends. If you are a beginner, first you will have professional training in the school's pool, and when you are ready, you will be able to go to larger waters.
PADI certifications:
Open water course (OW)
Advance Open Water (AOW)
Rescue + EFR (Emergency First Response).